Register for our COS21 event
Registration for this years open studios is OPEN.
Introduction
We are now making plans for Cheltenham Open Studios 2021 (COS21). Scheduled to run between Saturday 25th September – Sunday 3rd October 2021, we are aiming to engage even more local people with the wonderful art being created on their doorsteps. It would be great if you could join us.
As always, we will be producing a colour guide to accompany the event, publicising each venue and the artists exhibiting, as well as giving details of opening times and directions. In addition, we will be holding a curated taster show at Chapel Arts, offering people a taste of the range of work on show.
We will, once again, be running the very successful Small Art exhibition, where all participating artists are encouraged to donate at least one small item of artwork (5 inches square) to sell for £5 at the launch event, with the proceeds going to COS funds. These will be for sale at the launch. Any unsold will go on display at designated venues on the trail.
A self-funded event
As the arts continue to struggle in the current economic climate, we feel it is even more important to embrace the Open Studios event, celebrate the work being made locally and support the development of our artistic community.
We plan to keep production of the guides to 10,000.
Resources will include:
marketing materials for venues to display
posters to be displayed around the centre of town
local media PR
individual artist online listings as well as in the printed guide
web PR
COS21 launch night (if permitted)
How to register
Registration costs £60 for member artists (individual membership is £60) or £180 for registered communities and groups, plus an additional £10 for the 12x12 group exhibition at the Gardens Gallery.
This year, we will be taking registration via our website and registration fees by bank transfer.
To get started you need to:
First, make sure you have an online account on our website.
Then, log in in to your Member Portal and check that your membership is current. If your membership is not current, you will be given instructions on how to renew.
Next, to create your guidebook entry, click the yellow "Start registration" button and (if applicable) register your venue. Once registered, if it is your venue then you can arrange for other artists to join you – all they need to do is select your venue's name on their own registration form. If you don't have a venue arranged, then don't worry – we can put you in touch with artist's that can provide you with an exhibition space.
Finally, once registered, don't forget to pay your COS event fee.
If you have any questions, please feel free to get in touch using our contact form.
We look forward to seeing you at COS21!

Latest news
Exciting news!
We are launching our COS Cheltenham Lottery Fundraiser!
15 Sep 2020
Upcoming event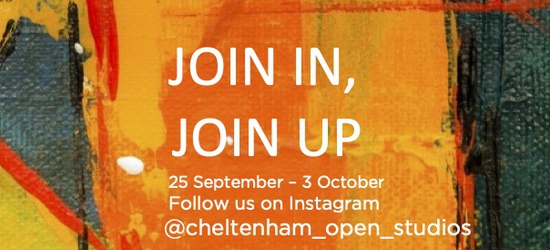 COS21 is the 12th time the artists from Cheltenham Open Studios have opened their doors to the public in this …
25 Sep 2021 – 3 Oct 2021