Paper
Textiles
Drawing
Landscape
feathers
woodlands
gold leaf
gardens
'Embroidered paper structures emerging out of landscape - complemented with drawn responses to their origin.'
As an artist my practice focuses on the natural world.
My vision is to explore a visceral and expressive relationship to gardens and landscapes through observational drawing which have the capacity to shift an understanding of ourselves and the earth.
I include pencils, charcoal and ink in this sketchbook and easel practice. I love expressing the enjoyment and experience of being in a landscape.
Sometimes I need a 3 dimensional response, constructing objects in paper and stitch that are about the things I find and I am thinking about whilst making the drawings.
For the ten days of the COS, I will be drawing and working in the Rococo Gardens and the Stone Bothy. I will be working on paper, which will provide the resources for a new body of work.
During the period of Cheltenham Open Studios, 25 September to 3 October 2021, there will be an exhibition of my drawings and paper textiles in the Cafe.
Work available from:
https://www.pureartsgroup.co.… online shop
BA (Hons) Fine Art Embroidery. Manchester Polytechnic
Foundation in Art and Design. Cheltenham School of Art
Member of Cheltenham Group of Professional Artists
Pure Arts Group
2021
Elemental. Lingwood Samuel Art. Godalming
PureArts Group Live broadcasts in April
Timeless Textiles. Newcastle, Australia.
Correspondence Collective, Clayhill Arts, Somerset
Publication – 'Seen' 50 Artists curated by Gita Joshi
Broadway Arts Festival
Old Lock Up Gallery, Derbyshire – Spring 2021 and Winter 2021 Exhibitions
Centenary of Cheltenham Group of Artists
2020
South West Academy of Fine and Applied Arts - Reflections 2020
ING Discerning Eye 2020 Online Exhibition
168th Annual Open Exhibition. RWA, Bristol
PureArts Group Live broadcasts in September
Derwent Art Prize 2020.
Painter Stainers – Online Art Exhibition
Timeless Textiles. Newcastle, Australia.
Latest news
Summary:
A new culture board has been set up for Cheltenham to develop a new cultural strategy for Cheltenham …
1 Jul 2022
Most recent event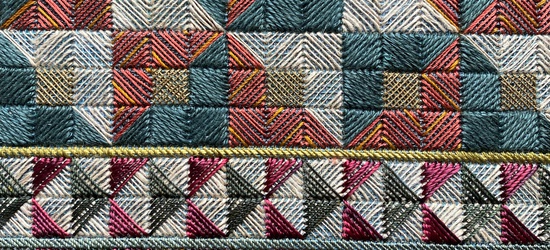 Solo exhibition
1 Jun 2022 – 30 Jul 2022