I make sculptural, decorative and functional pieces for the domestic environment. The pieces are bold, colourful and tactile.
My first love is hand building, as it offers so many opportunities to explore different forms and surfaces.  Recently I have started to mix in some thrown forms which are altered and joined.  Landscapes, seascapes and the elements have always been my starting points, although now I am beginning to reference architecture too, as my work moves towards a more sculptural feel. The ideas come together with my other loves – colour, texture and pattern.   I use white/cream earthenware clays and create textured surfaces, which are enhanced with swathes of colour.  Blues, greens and turquoises are favourites, with the occasional contrast of a yellow or lime green. A silken transparent glaze or a translucent matt glaze brings each surface to life in the kiln. 
During the winter lockdown I turned to working in collage. The inspiration has come from my usual sources and the finished pieces are a reflection of the surfaces of my ceramics. There is an image of one here in this section.
I am a long term member of Cheltenham Open Studios  (currently the Chair).
I am a member of South Wales Potters Association.
Studio
Cheltenham, Gloucestershire
Tel: 07794094950
Latest news
Summary:
A new culture board has been set up for Cheltenham to develop a new cultural strategy for Cheltenham …
1 Jul 2022
Most recent event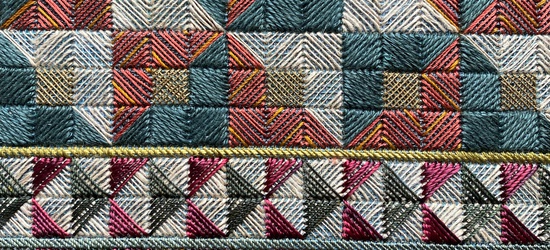 Solo exhibition
1 Jun 2022 – 30 Jul 2022