COS23: The 13th running of the hugely popular visual arts trail
10 to 18 June 2023
COS23 is the 13th time the artists from Cheltenham Open Studios have opened their doors to the public in this celebration of the visual art being made in the area. Now a biennial event, it has become an important part of the cultural landscape for artists and art lovers alike.
The first event, in 2001, saw just 46 artists take part; in 2021, the last time the event was staged, over 10,000 people visited the studios, workrooms and exhibition spaces of over 200 artists working in Cheltenham and its surrounds. This year's event runs from 10 to 18 June, and looks to be even richer and more diverse than ever.
Organised by artist-run association, Cheltenham Open Studios, this year's art trail links together a record 82 different exhibition venues, where you can meet the artists, view their work, learn about their practice and even have a go yourself.
Gardens Gallery, venue 1 on the trail – with its central location, in Montpellier Gardens is home to our taster show this year that will give people a flavour of the range of work on show this year, and help sign post you to the other venues.
Pittville Park and the Griffiths Avenue Nature Reserve are hosting activities for aspiring and enthusiastic artists of all ages.
University graduates, PGCE students and course leaders in art and design are showing work, and the Quad Gallery opens its doors to COS member artists at Francis Close Hall. We welcome the return of The Wilson Art Gallery and Museum to COS as they provide the opportunity for participants in the innovative artists in residence programme to exhibit their work, and the Innovation Lab above the children's library is proud to promote the work of a young emerging artist. As we encourage the participation of new venues it is great to see that TOAST on the Promenade and the restaurant Jonas at GL50 will be hosting artists this year, as well as our all our artists opening their home and studios to the public.
Our IT presence has been upgraded. The COS website has been developed and an interactive map of venues is still a major focus. Hopefully you will find these improvements, along with a new walking app to encourage people to walk and cycle parts of the trail and an updated QR coding, all useful.
We have also linked in with some local independent cafes and restaurants near COS trail venues and clusters and these are also highlighted on the trail map.
Focused on the centre of Cheltenham the art trail radiates out to the outskirts too. Visit the COS website to see our current directory of artists, where the guidebook will be ready to download: www.cheltenhamopenstudios.org.uk
Artist and COS Patron, PJ Crook MBE, writes:
"I am writing this in the week that Elon Musk, Apple's co-founder Steve Wozniak and over a thousand technology leaders have warned that we need to have a temporary moratorium on the development of AI as they fear it may gain the capacity work against humanity. It has also been claimed that it is where the future of art might lie. But surely these insentient machines can only analyse and regurgitate what we put into them. They can never compare with the self expression of the human soul. We have made marks in the sand or on the walls of caves in Lasceaux etc for thousands of years and when I see the multitude of ways in which the two hundred or so artists who make up Cheltenham Open Studios bring forth the fruits of their labour for this exuberant, enticing, exciting celebration of painting, sculpture, printmaking, ceramics ,textiles, jewellery and photography I am reassured that human creativity will always flourish.
So here's your chance to get up close and personal with the actual artists by visiting and engaging in conversation with them in the spaces where that magic and mysterious creative process happens. And if you fall in love with a piece they might even allow you to buy it to take home and inspire you!"
About Cheltenham Open Studios
Cheltenham Open Studios is a not-for-profit association run by artists. Like other Open Studios organisations around the country, it is evolving out of an art festival event into a thriving and supportive community of artists. With well over 200 members, it aims to network artists together to promote the visual arts in Cheltenham and its surrounds, engaging people with the original art made here.
Latest news
10 to 18 June 2023
COS23 is the 13th time the artists from Cheltenham Open Studios have opened their doors …
25 Apr 2023
Most recent event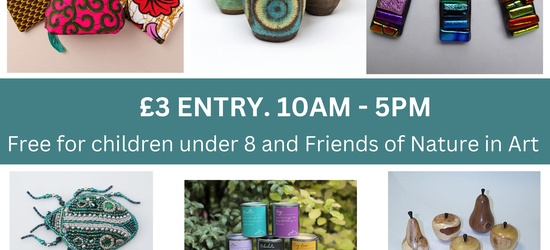 Over 45 stall holders
Free for children under 8 and friends of nature in art.
Cash only event as limited …
28 Oct 2023 – 29 Oct 2023