10 minutes with… Conrad Clarke
"What a privilege in a creative career, to be able to choose. I get so excited every time I start something new"
Conrad Clarke is an immediately likeable chap. Walking into Spring Gallery on Montpellier Street is as far from the usual intimidating gallery experience as you can get.
For a start, he's painting at his desk, happily chatting about the revolving selection of exhibiting artists as if they are old friends. It's a lovely, welcoming space in a regency townhouse with plenty of light, flanked by Gallery Sixteen, an elegant French deli – cafe and the Paragon Gallery further along the road.
Since opening Spring Gallery just three months ago, Conrad has found his way into the soul of Cheltenham, bringing us an exciting programme of exhibits in his artist led gallery. It definitely feels like a different art experience. As a supportive and collaborative initiative, exhibiting artists are selected by instinct to fit Conrad's vision and aesthetic. I visit as he hosts artists, jewellers and sculptors for Open Studios, painting hung against dark, petrol blue walls. It's easy to discuss the artwork and ask for prices. As he says, "engaging with other artists, you can learn so much, hear different points of view on things, and make great friendships," and that ethos seems to be at the heart of this delightful new gallery.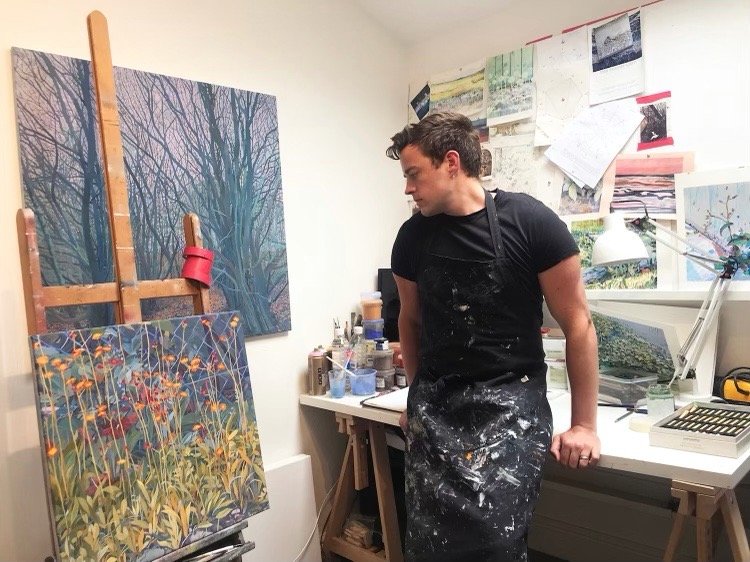 Are you a trained artist or self-taught? How did you get into your practice?
I did an art-foundation at Kingston University in London, but then rather than going on to do a degree in Fine Art, I chose instead to work as a studio assistant in London for a few different sculptors and ceramicists. My painting though was entirely self-taught and has just been years of practice and experimentation.
What are the core values of your life and work as an artist? What really matters to you?
I think the most important thing as an artist for me is to be genuine to yourself. I admire artists who discuss bigger topics or social concerns, but it is just not me and never will be. I appreciate artists who can think in a more abstract way, but it's not me either. I like to paint the things that I find beautiful and saturate them with great colour and lots of curious details. If you try to paint what you think other people would like to, you just end up creating a copy of something that has already been done.
How important is being part of your local artist community?
Art is already a very insular career so if you don't engage with other artists, it can be terrible, and you can miss out on so much great advice. Lots of artists have the attitude its them against everyone else, and it's such an unhealthy way to be. Art is so subjective at the end of the day so what one customer likes, another won't care for, so there is space for everyone at the table if you just concentrate on your own work. Also, by engaging with other artists, you can learn so much, hear different points of view on things, and make great friendships.
What project / commission / collection are you currently working on?
Well obviously, the biggest project for me recently has been the development of Spring Cheltenham (@springcheltenham), a new artist-run gallery in Cheltenham. That involves meeting and coordinating with a lot of artists and arranging future exhibitions, so loads of admin jobs at the minute. That said I also have an enormous commission on the go, and another one lined up for after that, so a huge amount is going on at the moment.
Is there an artist or an individual who has inspired or mentored you over the years?
There are so many artists who have inspired me, and it changes so regularly. The most recent two would be Richard Diebenkorn and Wolf Khan, but I'm sure in 6 months' time I will be admiring someone completely different. I've had some fantastic teachers at school, university and while working as a studio assistant, but I have never had a mentor as such. I wouldn't mind one though.
What one art product can't you live without?
A '00' brush. I love detail as I mentioned before, and they are invaluable in how I like to paint.
What is the best thing about being an artist?
Creating art that is motivated by the things I love. What a privilege in a creative career, to be able to choose. I get so excited every time I start something new, what I will end up creating and learn in the process.
Links
Latest news
10 to 18 June 2023
COS23 is the 13th time the artists from Cheltenham Open Studios have opened their doors …
25 Apr 2023
Most recent event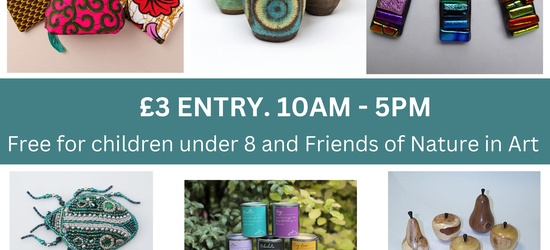 Over 45 stall holders
Free for children under 8 and friends of nature in art.
Cash only event as limited …
28 Oct 2023 – 29 Oct 2023